Nick Gregorio is a husband, writer, teacher, dog-dad, punk, nerd, teeth-grinder, and mall-walker living and writing just outside of Philadelphia. He is the author of four books, and his work has appeared in many print and online journals. He earned his MFA from Arcadia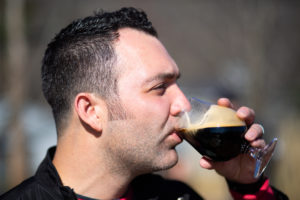 University in May 2015, and his new chapbook, Rare Encounters with Sea Beasts and Other Divine Phenomena, was released by Thirty West Publishing House in October, 2021.
Nick's collaborative collection of fiction and poetry with Francis Daulerio, With a Difference, is available now from Trident Press. This Distance, a collection of short stories, and Good Grief, Nick's debut novel, are also available from Maudlin House.
He writes tunes and serves as the guitarist and shouter for the Philadelphia-area punk rock bands Grayson and Scatterbrain.
He is also a co-host of the monthly podcast book.record.beer.
Any questions, comments, concerns, or speaking engagements? Feel free to drop him a line at gregorio.nick@gmail.com