Launch Me to the Stars, I'm Finished Here: A Novel
Trident Press
Barnes & Noble
Amazon
Astrid would rather blast off into space than suffer through her mental health struggles. Literally. Alongside astrophysicist and engineer, Doctor Barbara Loonsfoot, Astrid schemes and pilfers the components for a ship capable of reaching a lightyears-away world.
Astrid's mother, Cassie, and best friend, Willa, have spread themselves thin. Astrid attempted taking her own life not long ago, and they are doing everything they can to keep her from sinking to those depths again. Cassie has even turned to an eccentric new psychiatrist—a one Doctor Barbara Loonsfoot—to aid in Astrid's ongoing recovery.
But Loonsfoot and Astrid's ship needs one more thing: Uranium. And there happens to be a nuclear power plant nearby…
Published June 17th, 2023 by Trident Press.
Those Who Scream: A Novel by 30 Writers
Thirty West Publishing
Written during the traditional NaNoWriMo period (the month of November), 30 writers were tasked to write a complete, unprompted story full of eccentric characters, unforeseen plot twists, and shuddering undertones. Those Who Scream is the final result.
Molly Hammersmith, a woman seeking a serene change of pace, moves from Kentucky to southern Georgia to work as a cemetery groundskeeper. However, there are people (and things) that are not as welcoming of her arrival. How long will she remain here, and what may keep her in this mysterious corner of the world? That is, until she learns how to scream. Welcome to Scarlet Maple Cemetery.
Published June, 2022 by Thirty West Publishing.
Rare Encounters with Sea Beasts and Other Divine Phenomena
Thirty West Publishing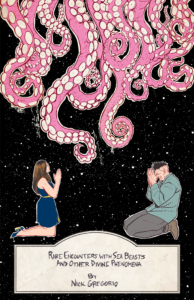 Rare Encounters with Sea Beasts and Other Divine Phenomena is about memory and giant squid. It's about losing a childhood friend and being disappointed by God before your eighth birthday. It's about praying, but instead of actually praying you go off hunting a giant squid like it were some sort of God-surrogate. It's about loneliness and yearning and searching—sometimes for giant squid. It's about the inability to properly understand friendships and love far too deep into a life. It's made up of 12 pieces of flash and microfiction that tell 12 interconnected stories that span a single lifetime.
Published October 31st, 2021 by Thirty West Publishing.
With a Difference w/Francis Daulerio
Trident Press
Barnes & Noble
Amazon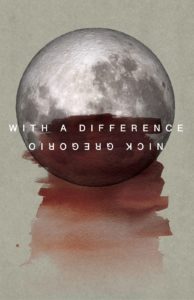 A cross-genre collection of poetry and prose by Francis Daulerio and Nick Gregorio. Inspired in part by vinyl records, and a split album by NoFX and Rancid from back in 2003 in which the bands covered each other's songs, this book features twenty "covers"—Gregorio has adapted ten of Daulerio's poems into short stories, and Daulerio has morphed ten of Gregorio's stories into poems. To add to the music-inspired release, the book features two "front" covers created by Adde Russell—the mastermind behind the artwork of Death Cab for Cutie's Transatlanticism and Plans—and will literally need to be flipped over to read each "side" of the book.
Published May 29th, 2020 by Trident Press.
This Distance: A Collection of Short Stories
Maudlin House
Barnes & Noble
Amazon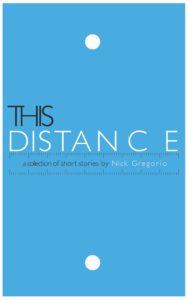 Wannabe astrophysicists and screenwriters, star gazers and time travelers, a foul mouthed Chris Hemsworth, a sitcom star lamenting her station in life while wearing a fake pregnant belly, and even a cult author kidnapped by the very secret society his work spawned—all of them get to have their say in This Distance. Dramatic, violent, comical, sad, and occasionally hopeful, Nick Gregorio's first collection of short stories puts the human need to connect on display with grit, humor, and compassion.
Published November 2nd, 2018 by Maudlin House.
Good Grief: A Novel
Maudlin House
Barnes & Noble
Amazon

Tony D'Angelo's brother Nate is dead. His family is devastated, his life is thrown into upheaval, and he doesn't want to deal with any of it. Not with his brother's death, not with his guilt-ridden father, and not with the consequences of his erratic behavior involving his ex-girlfriend. But when he meets Mikey, a hallucination of his nine-year-old self dressed as a Ninja Turtle, Tony is forced to face all the things he'd rather not.
Published September 22nd, 2017 by Maudlin House.